The Problem with Instagram
The Problem with Instagram
This piece, "Au Soleil" is a study of tide and rocks washed in sunlight. You can feel the sun warming up your bones, I love backlighting.
#Wavepaintings
#waveart
#wavepainting
#galleryart
#marineartist
#deborahchapin
#americanartist
#americanwomenartist
#amwomenartist
#pleinairartforsale
#pleinairpaintingsforsale
#bristolme
#bristolmainestudio
#buyart
#buyartonline
#originalartforsale
#InteriorDesign
#interiordecor
#coastaldecor
#brittanycoast
#frenchart
#artcollectors
As part of the journey through the coast of Maine, getting to know the coast of Maine and people getting to know me,  I am doing a series of LIVE on Instagram painting sessions.  I'm naturally reticent to be in front of the camera but willing to appear a little foolish as I learn how to do this.  Technology not always being cooperative and some days forgetting my words at home.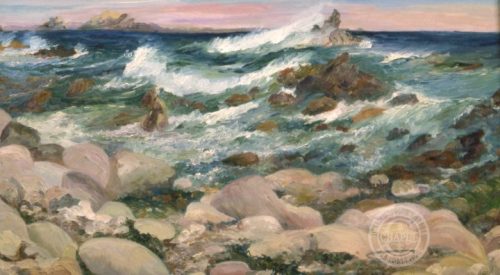 Hopefully copy of interview here Blue Indigo, 21×34 plein air oilBlue Indigo, was painted during a storm hitched to the back of my car.  It is part of my personal collection but it has been exhibited at the National Arts Club, the Ketterer Kunst in Hamburg Germany, and presented as part of my talk on…