Latest News ~ Bristol Maine Artist Deborah Chapin
I'm opening up a channel on Patreon for my exploration of Maine,  a Video Exploration Log Painting Maine's Coast (VELP-ME).    I am super excited to launch and start growing this community of patrons.   I've loved water my entire life.  From fishing, competitive swimming and sailing to just watching the ocean as a professional artist.    Living in Maine will give me a unique perspective that is difficult to come by just visiting I'm building my studio and following my bliss I never know where it might lead….
Read More
This Week in Maine
About the Artist
About the VELPme Project
Achive Notes
 ~ Bristol Maine Artist Deborah Chapin Studio & Garden @ Stoneridge
This Week's Update ~ Bristol Maine Artist Deborah Chapin in Maine:  I've been working real hard but I'm a little bit behind where I want to be, again… But I went out to see the moon night before last on the coast.  Last night it's full so I'm giving it another try. I decided I wanted to try painting a moonlit seascape so I went out to see what the possibilities were. I think there will be a lot of memory work involved. But I have this idea and I'd like to see it develop so I'm going to give it a try.  I'm going out again to see if I can capture the moonrise a little earlier.  Learn what I can learn.
Weather's gorgeous.
@deborahchapin
Midcoast Maine
#velpme
Last Night I did another session spent 2 hours and then I was ready for the moonrise.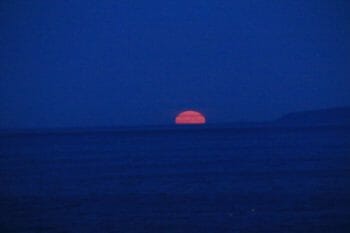 so today I've been working on ideas two that I've tried to date are vertical compositions...
Composition idea #2 for moonlight piece as vertical in a sketch...
The trick is to make a painting with gravitas without being kitch.
I noted that a lot of artists have gone to the greens to do moonlight scenes ...
clearly photoing lavendar - midnight blue is one of the problems to resolve. Also this old rough canvas isn't the best for a smooth creamy surface, all things to work on for the next go around.   I  need to set up my photo lamps to improve the photoing on the work but the canvas is more important.
So... its a start.... this convinced me that what I saw was in lavenders haven't been explored…  the next full moon is at 14th of September at 7:29pm  however the sunset is at 6:55pm so I want to capture the in between light of dusk with he moonrise.  So.... a couple of days before September 14th I think the sunset and the sunrise coincide.
September 10th Sunset 7:02pm EST Moonrise 5:39pm
September 11th Sunset 7:00pm EST Moonrise 6:12pm
September 12th Sunset 6:59pm EST Moonrise 6:40pm ding ding ding we have a winner **** high tide not optimal at 11pm 9.5 feet domage but because it will be building still may get some good wave action....  I will do my first attempt on this evening weather permitting....
September 13th Sunset 6:67pm EST Moonrise 7:06 pm ding ding ding we have another opportunity here is at 11:45pm this is a second painting opportunity.
September 14th Sunset 6:55pm EST Moonrise 7:29pm
September 15th Sunset 6:53pm EST Moonrise
September 16th Sunset 6:51pm EST Moonrise
September 17th Sunset 6:49pm EST Moonrise
I'm going to attempt to paint on location a piece that I am going to practice up for right now and undoubtedly it will come out much different because of the lighting and coloring present on the day.  Weather will also play a factor... but I have always done well with this method of seeking a particular trifecta if you will.  Tide will also be a factor.   Join me if you can at Pemaquid Point.
Other Seascapes Videos ~ VELPme (Video Exploration Log Painting Maine ~ Bristol Maine Artist Deborah Chapin
New Paintings ~ Bristol Maine Artist Deborah Chapin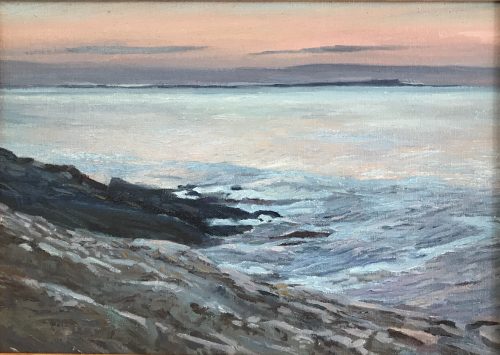 2018 Studio Build in Maine ~ Bristol Maine Artist Deborah Chapin
I put together a little photo journal of the progress in the studio build 2018.  It's amazing how fast this year went by and how much has changed but I am so looking forward to being at the easel again and  working on my 2019 Plans For more info see the latest news see my Notes from the Studio
Philosophy
Est 1980
____
Painting Gallery of Deborah Chapin
This is my online Painting Gallery and my New Studio / Gallery in Bristol connection.   Plein Air Paintings, Marine Art, Expanded Nature/Underwater Portraits in the next phase of my career will be announced on this site.
I have always pushed my art to the next level.  I want to improve upon what I have already done.  It is for this reason that my work has evolved over the past 39 years through so many subjects.
I am building my new brick and mortar studio gallery and opening it to the public.   If you would like to more info and be kept in the loop as we build, contact the Studio here and subscribe to Patreon Page