I'm opening up a channel on Patreon for my exploration of Maine,  a Video Exploration Log Painting Maine's Coast (VELP-ME).    I am super excited to launch and start growing this community of patrons.   I've loved water my entire life.  From fishing, competitive swimming and sailing to just watching the ocean as a professional artist.    Living in Maine will give me a unique perspective that is difficult to come by just visiting I'm building my studio and following my bliss I never know where it might lead….
Read More
Writeup Maine Art, Pemaquid Point, collector's art, "Morning Light", 12×17 oil on linen canvas by Deborah Chapin. "Morning Light", is the first piece I've done off Pemaquid point for the Maine Art Portfolio.   I'm in the process of working on an idea of capturing the catspaws off the coast,  A contemporary painting idea and I'm…
Read More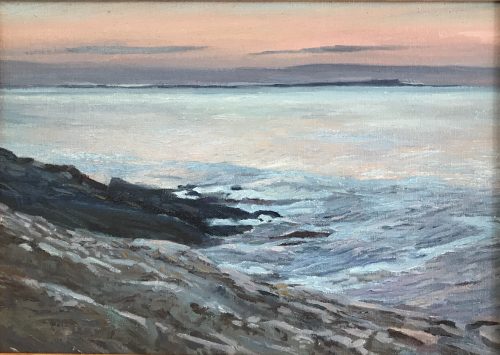 Attention New Updates
Because of the VELP-ME project (Video Exploration Log Painting Maine's Coast) start up (starting this summer),  I will be making some changes in my method of updating here on my website.
You will see announcements like this one which summarizes what I am doing, This will be posted on my website here and also on my newsletter.  Additional notes and videos postings from my Patreon Page will be posted as a page under Maine Art category.  Some of the Videos will be available.
2018 Studio Build in Maine
I put together a little photo journal of the progress in the studio build 2018.  It's amazing how fast this year went by and how much has changed but I am so looking forward to being at the easel again and  working on my 2019 Plans For more info see the latest news see my Notes from the Studio
Philosophy
Est 1980
____
Painting Gallery of Deborah Chapin
This is my online Painting Gallery and my New Studio / Gallery in Bristol connection.   Plein Air Paintings, Marine Art, Expanded Nature/Underwater Portraits in the next phase of my career will be announced on this site.
I have always pushed my art to the next level.  I want to improve upon what I have already done.  It is for this reason that my work has evolved over the past 39 years through so many subjects.
I am building my new brick and mortar studio gallery and opening it to the public.   If you would like to more info and be kept in the loop as we build, contact the Studio here and subscribe to Patreon Page