Original Oil Painting, Moonlight in the Deep Woods, by Deborah Chapin
$12,000.00
Listen: This is an Original Oil Painting entitled "Moonlight in the Deep Woods". Moonlight has a magical quality all its own.   As the light fades and the change from the last light of the day to the first light of night the shimmering moon plays against the mystery of the woods… See other Moonlight Paintings Read More
Tips for Viewing with AR viewer: stand about 8 feet back from you wall when lining up the floor level.
Categories: $5000 on Up, All Originals, Large Paintings, Oils, Premier Exhibition Pieces, Wetlands & Woodlands
Tags: AR portfolio, art for design, blue and gold art, fine art, interior decor, interior decorating with art, landscape art, landscape painting, moon, moonlight paintings, wood scenery, woodland scenes
Description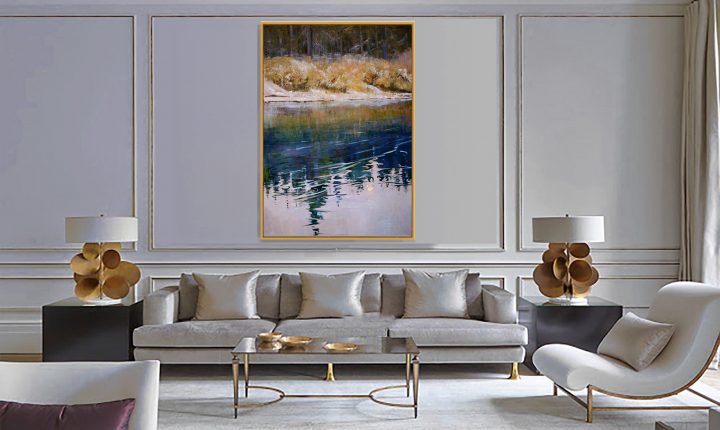 This is an Original Oil Painting entitled "Moonlight in the Deep Woods". Moonlight has a magical quality all its own. As the light fades and the change from the last light of the day to the first light of night the shimmering moon plays against the mystery of the woods. Painted from sketches the first dusting of snow and the twilight I love to paint. 24×36 Original Oil Painting on linen canvas. This painting is currently framed ( see last photo) and can be purchased without this frame or framed in another frame. Contact Us About This Piece please include the title in your subject line.
Only logged in customers who have purchased this product may leave a review.