Woman Artist Deborah Chapin, oil painting Girl Reading in a Courtyard
$2,700.00
Woman Artist Deborah Chapin, oil painting Girl Reading in a Courtyard
Woman Artist Deborah Chapin, oil painting Girl Reading in a Courtyard. Plein air Painting of a Girl Reading in a Courtyard at Three Arts Club Chicago.
________________
for invoice or payment plans  Contact Us About This Piece please include the title in your subject line. 
Out of stock
Description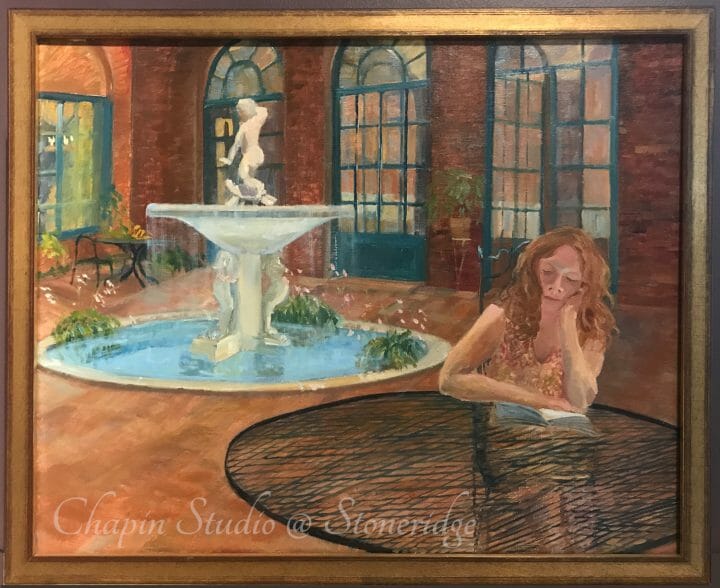 Did You Know
Did You Know?
That with just inflation a painting:
in 1982 that was sold at $600, in 2020 is worth $2375?
in 1984 that was sold at $2500, in 2020 is worth $8625?
in 1987 that was sold at $7000, in 2020 is work $21783
This doesn't account for anything but the value of the $ and nothing added for a lifetime of professional experience and worldwide exhibition history.
Deborah Chapin's Marine paintings have a long exhibition history starting with American Society Marine Artists in 1980 at the now defunct Grand Central Galleries in NYC.   As an Independent artist since embarking on her career she has exhibited extensively in top shows and Museums including: Grand Palais and Carrousel de Louvre in Paris with the Societe National des Beaux Arts, Mystic Seaport Gallery International since it's inception in 1982, Of Ships and Sea Exhibits at Greenwich Workshop Gallery,  Artist of America Exhibitions Colorado Historical Museum, Ketterer Kunst Auctions, and Lectured on plein air painting at the Smithsonian American Art Museum just to name a few.    All this was accomplished without the aid or support of galleries, art groups or spouse.   At the time of her debut she was one of two women in the national exhibitions of Marine Art.   See more information    https://gallery.deborahchapin.com/exhibition-history-of-35-years-in-paint-by-deborah-chapin/    She now resides in Maine and is working on a new portfolio of work and commission paintings for select collectors in her private studio/gallery.  
Only logged in customers who have purchased this product may leave a review.