Pemaquid Point Storm ~ January 2021
I've created a new brochure for the upcoming season. To obtain your copy contact the studio through my website contact form add your name and address and I will mail you one. The video is of the Pemaquid Point Storm on Christmas Day.
I also completed in the first week of January the New White Horses of the Sea 5 painting and a cabinet so I'm getting busy for when we will all be able to get back up and running.
Get ready for the season with the new Studio Brochure. Ask for your copy. Homeowners, decorators and art collectors welcome.
I am currently working on the films from my storm session Christmas Day and hope to have most of that reviewed by the end of the month.
Also please note the service I'm offering of seeing work in your own home. In home viewing is available to Maine Home Owners. You don't have to leave home and I can bring artwork to your home.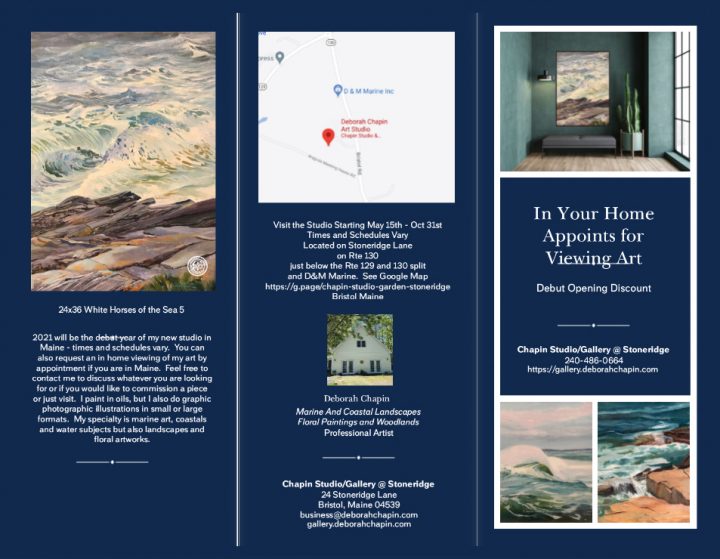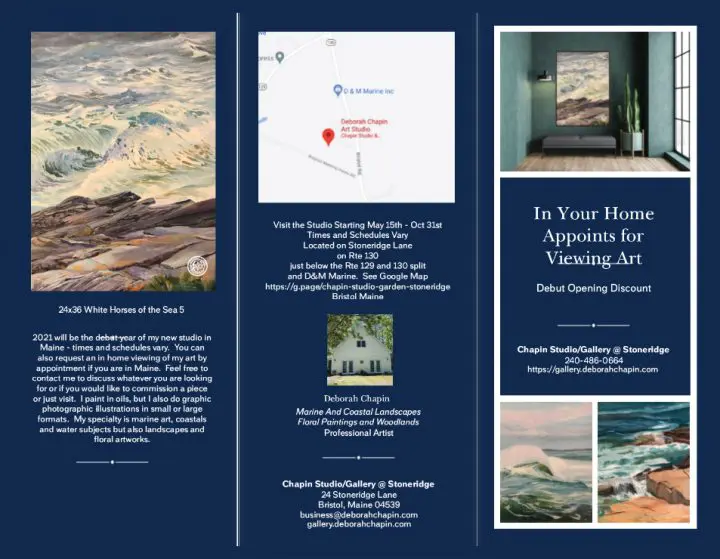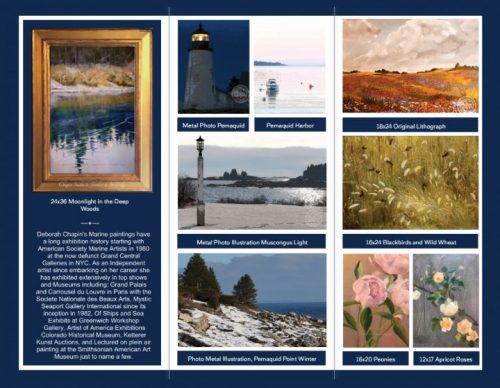 New "Art Teaches That" Drawing.
Now through November 10th Early Birds have an opportunity to buy the series "Art Teaches That" for Christmas Gifts for Their kids or Grandkids at a Pay What You Want Price for the Art Teaches that Series and/or the Charcoal.
Pemaquid Point Lighthouse Charcoal Drawing Original "Pemaquid Pilot" by Deborah Chapin. Pemaquid Point Lighthouse was a demonstration drawing I did as part of the "Art Teaches That" Series ( https://gallery.deborahchapin.com/art_teaches_that/drawing1/ ) and drawn on Strathmore paper for the kids to demonstrate perspective drawing, shading and development of subject matter. Kids seem to have a ball at the Pemaquid Point Lighthouse and I learned something too. All good things Charcoal drawing and pastel on Strathmore paper 18×24 paper size. Feel free to share with your friends.