Plein air Original Oil Painting, Arts For The Parks, Moonrise, by Deborah Chapin
$11,500.00
Listen: 
Plein air oil, Original Oil, "Moonrise", by Deborah Chapin
This plein air oil painting was painted on location and exhibited in the 2007 Arts for the Parks exhibition.  Painted on location at Black Water Wildlife Preserve, Chesapeake National Park, Exhibited in the top 100 of the 2007 Art for the Parks.   Moonlight is a favorite subject.  Read More  Contact Us About This Piece please include the title in your subject line.  Read More  
… Tips for Viewing with AR viewer: stand about 8 feet back from you wall when lining up the floor level.
Description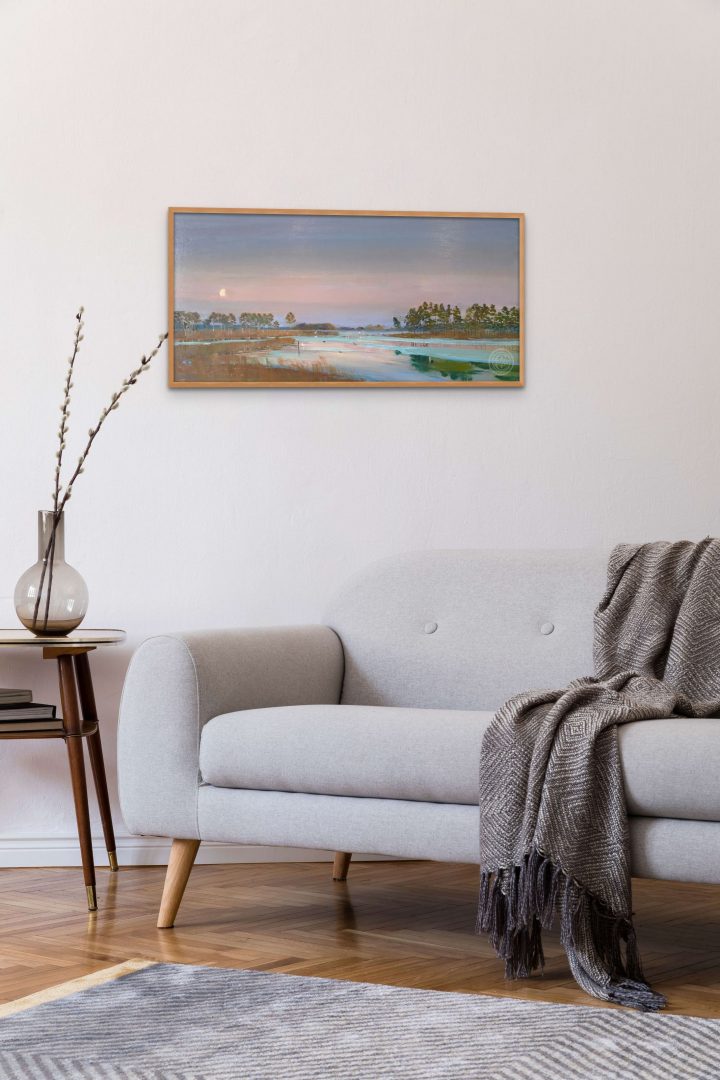 About the Chesapeake Series:
I painted 10 years in the blackwater wildlife refuge. This wetland suffered shortly after I stopped because of the increasing salinity of the Bay.
About the Process of Original Art:
I like to paint several smaller paintings, working myself up to larger work, as I learn the subject matter. Gradually developing a portfolio which expresses the full character of the place. Pemaquid Point is no different to than one of my favorite haunts in France. It must be explored and appreciated and allowed to seep in at it's own pace. I think deeply and like to delve into the nature of the place, learning the nooks and crannies and developing a deep appreciation of its beauty. Instant gratification is not my thing. I have never been someone who thought a cursory look at someplace even counted as having seen something. Each series of plein air and studio paintings are new work added to an already extensive portfolio of 40 years of art.
Additional information
| | |
| --- | --- |
| Size | 16×34 original oil |
| Framing | Available Framed can also be purchased unframed |
| Linen Canvas | Stretched Linen Canvas |
| original oil info | Original oil is available, it is ___ inches painted on linen canvas. If you are interested in the original please feel free to contact the studio, I offer layaway plans that can fit any budget. For more information about this piece contact us at https://gallery.deborahchapin.com |
Only logged in customers who have purchased this product may leave a review.