White Flower Paintings , Japanese White irises, floral artwork canvas museum piece
The original sold

white flower paintings of Japanese irises is a 21×34 and the unframed giclée printed canvas with permanent pigment ink are made to order ready for your framer. Japanese flower painting, white iris Purchase the size that you are looking for your decor and know that you will receive a museum quality giclée. The Original of this Piece is SOLD.
Description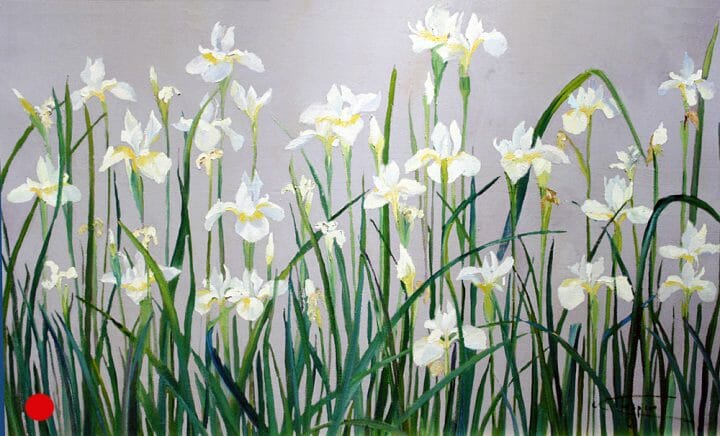 White Flower Paintings, Description by the artist: "I painted this piece of Japanese flower paintings on location over a series of days as the Japanese irises bloomed. I planted these from seeds and it took a number of years before anything was big enough to bloom. With all my Japanese Irises and many of my bearded iris I painted the foundation first since I wanted just the silhouette of the flowers painted as an abstract of their form.
Contact The Artist
Features: Fine Art Canvas Giclee, Large – small size
made to order by the artist
printed in permanent pigment inks on archival canvas. Made to order giclees are printed on demand with the highest quality materials by the artist. Deborah wanted to keep control of her quality of materials and the reproduction of truly beautiful colors. Deborah is a long time professional artist who has lectured at the Smithsonian American Art Museum on color and plein air painting and has exhibited her works in museums worldwide.
Other Floral Canvas Prints at About the Artist: My Online Studio is an extension of my studio. When you enter you are entering my studio but without the housekeeping. I offer fine art in original oil paintings on linen and also canvas prints of favorite original pieces. Most of my originals in the past 20 years have been painted en plein air ( on location) I have lectured and made film presentation at the Smithsonian American Art Museum, exhibited at the Louvre, and museums through out the world see by exhibition history at Deborah Chapin's Website Studio
The next 30 years I expect to be doing a combination of unusual water portrait work and collector's favorite, my beach scenes with people. If you have questions feel free to ask.
For more information see
Only logged in customers who have purchased this product may leave a review.