Latest News ~ Bristol Maine Artist Deborah Chapin
I'm opening up a channel on Patreon for my exploration of Maine,  a Video Exploration Log Painting Maine's Coast (VELP-ME).    I am super excited to launch and start growing this community of patrons.   I've loved water my entire life.  From fishing, competitive swimming and sailing to just watching the ocean as a professional artist.    Living in Maine will give me a unique perspective that is difficult to come by just visiting I'm building my studio and following my bliss I never know where it might lead….
Read More
This Week in Maine~ Painting Moonrise (hopefully) September 12th
Moonrise over Pemaquid
Going back in October for a more complex piece. I probably will attack it differently In the mean time here are some of the video clips which I took while painting the Harvest Moon.... next month the Hunter's Moon....
Other Seascapes Videos ~ VELPme (Video Exploration Log Painting Maine ~ Bristol Maine Artist Deborah Chapin
Paintings added to the Gallery ~ Bristol Maine Artist Deborah Chapin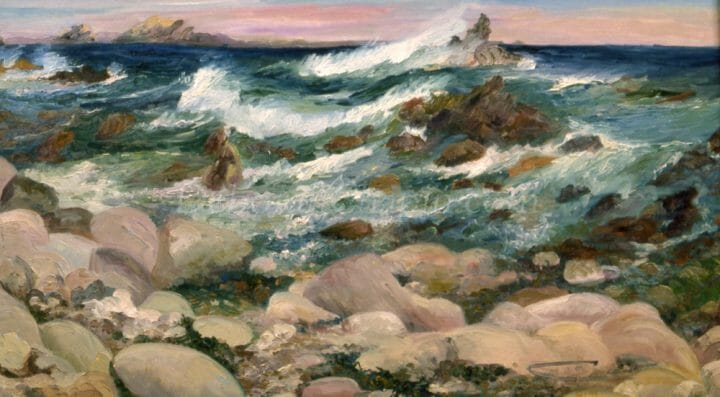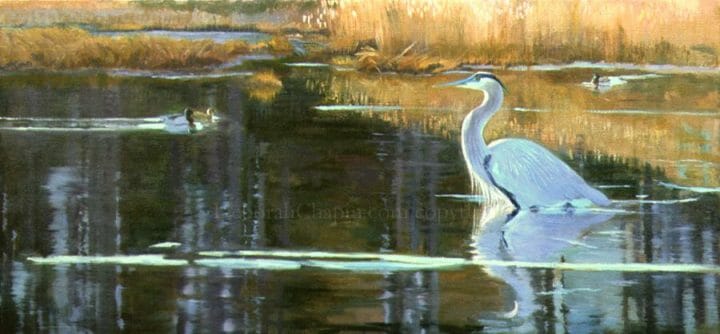 The original iris flower paintings is 22×30 and the unframed canvas print with permanent pigment ink are made to order ready for your framer. The flower painting, is garnet reds and deep velvet violet color irises Painted like a Van Gogh Iris painting en plein air with the natural lines accentuated.  Purchase the size that you are looking for your decor and know that you will receive a museum quality giclée. The Original of this Piece is Available please contact us for information.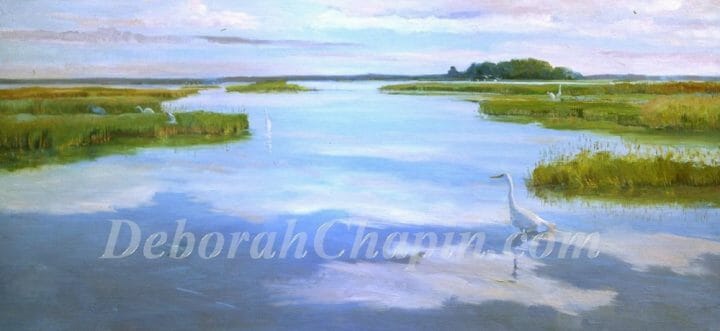 Painted on the Eastern Shore of Maryland as part of a Wetland Series of pieces involving 350 pieces of art during a 10 year period, most of which have been sold.  " In all the years that I've been painting the Wetlands and environs the characteristic I enjoy most is the reflecting sky. Somehow the breeze dies, a peace settles in and the wildlife revel in the environment."  This piece has sold, see a similar piece still available for sale contact us if you have questions.
blue floral art on canvas " I painted each blossom en plein air (on location) over several weeks as a portrait of these flowers, adding each flower as it opened, faded and died creating the composition as I went. "  Exhibited at Texas Art Gallery as part of a National Exhibition of the National Academy of Professional Plein Air Painters (NAPPAP) in their "Natural World Observed Series"
 
Philosophy
Est 1980
____
Painting Gallery of Deborah Chapin
This is my online Painting Gallery and my New Studio / Gallery in Bristol connection.   Plein Air Paintings, Marine Art, Expanded Nature/Underwater Portraits in the next phase of my career will be announced on this site.
I have always pushed my art to the next level.  I want to improve upon what I have already done.  It is for this reason that my work has evolved over the past 39 years through so many subjects.
I am building my new brick and mortar studio gallery and opening it to the public.   If you would like to more info and be kept in the loop as we build, contact the Studio here and subscribe to Patreon Page