Women Painting Women, "Invincible" by Deborah Chapin, Hair Portrait Underwater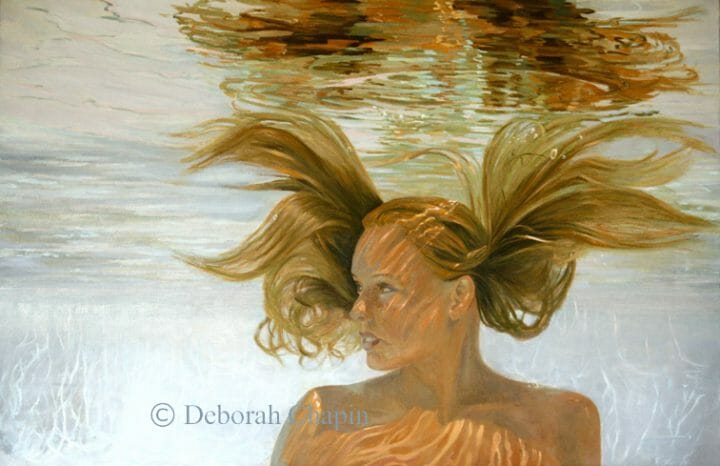 writeup
 
NEWS UPDATE 8/12/2015: "Invincible" exhibiting at the WOMEN PAINTING WOMEN EXHIBITION, RJD Gallery, 90 Main Street Sag Harbor, NY, OCTOBER 10TH – NOVEMBER 8th, 2015. 
This painting by water portrait artists, Deborah Chapin is about the invincible spirit of the subject. The above is a slide show of the transitions of this piece to the final piece. I wanted to separate the female portrait from the depiction of the languid and passive and express the interior invincible spirit, the dynamic of the individual. Spirited, strong and with an intellectually uncompromising quality. Water often represents the border between this world and that of dreams. Suspending time and space, allowing the painting process to begin by creating shapes and patterns while in the water and then evolving the subject matter as it goes through the painting process. To see this work evolve and see more information about this project see the introduction of "Book of Water"
Video
Latest Video from the RJD Gallery Opening 2015 in Sag Harbor:
This series of portrait paintings is new work to my portfolio. In my youth I was a competitive swimmer and so am very comfortable underwater although it did require learning some diving skills to stay underwater since I am naturally buoyant. After about 2 months of practicing however with weights I managed to sink. I also worked at expanding the time underwater through controlling my breathing until really the limitations now are equipment rather than my breathing. Part of Women Painting Women Movement.
About the Artist: My Online Studio is an extension of my studio. When you enter you are entering my studio but without the housekeeping. I offer fine art in original oil paintings on linen and also canvas prints of favorite original pieces. Most of my originals in the past 20 years have been painted en plein air ( on location) I have lectured and made film presentation at the Smithsonian American Art Museum, exhibited at the Louvre, and museums through out the world see by exhibition history at Deborah Chapin's Website Studio
The next 30 years I expect to be doing a combination of unusual water portrait work and collector's favorite, my beach scenes with people. If you have questions feel free to ask.
For more information see