Chapin Newsletter Update – Countdown to Studio/Gallery Opening
Getting Ready to Open My Doors
It's been quite a journey here to Maine, 40 years of work and following various paths and always following the thread as William Stafford wrote.
For the past two years I have been working and building and repairing to open my first Studio/Gallery ... here in Bristol Maine.  Now that I am here I am so thrilled to be working in my new space and creating new works from the exploration of the Maine Coast.  I'm doing several projects from painting LIVE on Instagram periodically,  to starting work on several books and exploring the coast starting with the Pemaquid Peninsula.  This year I am offering a 21% discount for all those who subscribe to my newsletter through https://gallery.deborahchapin.com/subscribe   so don't miss out.  Watch the video of my studio evolution and stay tuned for the Virtual Tour coming up from the studio.  Opening May 21st, 2021.
There's a thread you follow.

It goes among things that change.

But it doesn't change.

People wonder about what you are pursuing.

You have to explain about the thread.

But it is hard for others to see.

While you hold it you can't get lost.

Tragedies happen; people get hurt

or die; and you suffer and get old.

Nothing you do can stop time's unfolding.

You don't ever let go of the thread.   -- William Stafford
As part of the journey through the coast of Maine, getting to know the coast of Maine and people getting to know me,  I am doing a series of LIVE on Instagram painting sessions.  I'm naturally reticent to be in front of the camera but willing to appear a little foolish as I learn how to do this.  Technology not always being cooperative and some days forgetting my words at home.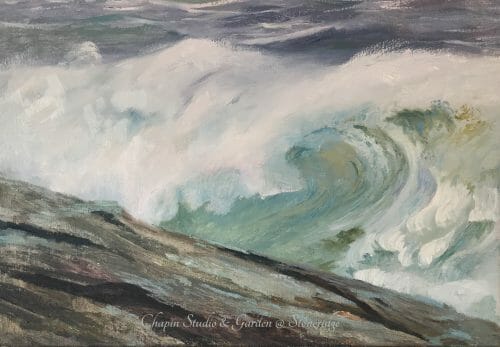 See this Painting in the gallery at: https://gallery.deborahchapin.com/shop/white-horses-of-the-sea-1-by-deborah-chapin collector's notice blue dot preview. White Horses of the Sea I, oil on linen canvas is part of the #chapinstormpaintings depicting the white horses written about by Byron and other poets. An English lore. How many horses do you see?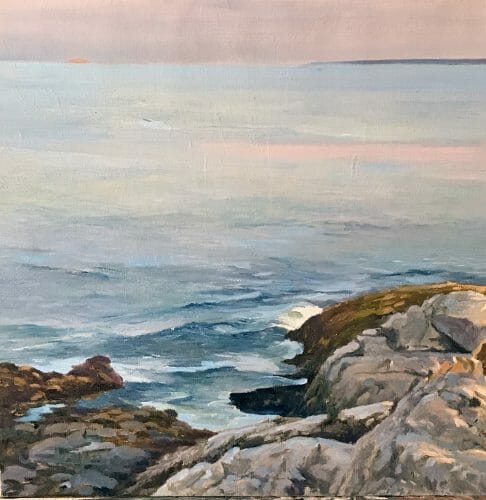 Latest Paintings and Photos available in the Studio Check out the latest paintings from the studio available in the Gallery. Organized by Category I'm gearing up for the upcoming season with my latest pieces from various portfolios some are new paintings, just starting, some are photos and some are from the archives of top show…
In Brief What's Happening At the Studio ~ Podcasts, Paint in Maine Project, Touring Maine, Paintings, News…